Peoria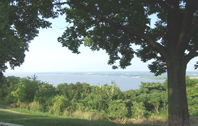 On westbound Interstate 74 driving toward Peoria, there's a turn in the road where the hills and acres of farmland vanish and are replaced by what has been best described as a "jewel in the cornfield," as Peoria's cityscape suddenly reveals itself. It's breathtaking from a distance, but upon closer inspection, Peoria stands far taller than the cliché that has followed it since before the vaudeville days, "Will it play in Peoria?" because of our sophisticated audiences.
Peoria is as unique a city as you'll ever find. It invites you to explore. It challenges you to think. It encourages you to be successful. It insists you have fun. It welcomes you home. It's a rare combination of nature's framework and man's determination to protect and polish it for all the world to see.
The world continues to see the fruits of Peoria's fertile shores. This community has shared much with the world, including a machine that resembled an insect and became known as Caterpillar. Its headquarters in downtown Peoria is the hub of an industrial giant that produces the finest tractors, engines and related components in the world. Though Caterpillar Inc. has facilities throughout the world, much of that work is completed in East Peoria, Mossville, Morton and Mapleton, where thousands of engineers, other professionals, assembly crews and support staff keep "Big Yellow" on top.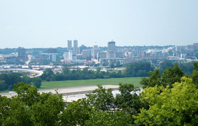 Nurtured in this community have been international and national figures, from politics to entertainment, from social activists to athletes. Imagine a world without the names, faces and influence of individuals like Jack Brickhouse, Philip José Farmer, Dan Fogelberg, Betty Friedan, Richard Pryor and Susan G. Komen. Unique and lifesaving inventions were born here. Imagine a world without the mass production of penicillin, developed in the 1940s at the National Center for Agricultural Utilization Research in Peoria.
In Peoria, it's all about savoring the location, location, location ... the western shore of the Illinois River and Peoria Lake ... how Grand View Drive in Peoria Heights towers over the valley and waterway ... the immense and intense acres of Mother Nature's finest to shade, soothe and educate us.
Despite the healthy population explosion of surrounding communities that help make up the Peoria metropolitan region of nearly 400,000 residents, this city remains the very core, the heartbeat, of central Illinois. It is an entity that has weathered tough times and emerged stronger and eager to show the world how flexible and enthusiastic it is to nurture new businesses and introduce newcomers to an unparalleled quality of life for a city the size of Peoria.
From its earliest days as one of the first towns in Illinois, Peorians have accepted endless challenges posed by the land, the Illinois River, the elements, fellow man, economics, society, politics and everything in-between. Peoria constantly reinvents itself, and that's what keeps it fresh and fascinating.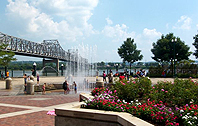 This is a town that's easy ... easy to navigate from one end to another in minutes thanks to the completely renovated Interstate 74 that cuts commutes drastically. Add to that its ideal location between Chicago and St. Louis and as a natural stopping point between east and west, a home to numerous national trucking firms and the Greater Peoria Regional Airport that serves as a major hub for air cargo.
This is a town that's hardworking ... hardworking employees within a diverse manufacturing, service industry and educational environment. From the headquarters of Caterpillar Inc., that produces more than just tractors in a worldwide marketplace, to the comprehensive and well-known medical community with three major hospitals and a medical college, to the nationally recognized Bradley University and myriad businesses that are proud to call Peoria their base of operations.
This is a town that's fun ... fun to explore its natural and manmade wonders, including countless recreational opportunities along and on the Illinois River. An important part of this mix is the newly expanded and innovative Peoria Zoo, and nationally respected and award-winning Peoria Park District with its progressive programming and facilities and has among the highest amount of park land per capita districts in the country. West of Peoria is the internationally known Wildlife Prairie State Park where native animals roam and teach young and old the beauty of nature. Sports fanatics quench their thirst with professionals like the Peoria Chiefs baseball team and the Peoria Rivermen hockey franchise, and countless amateur events for weekend athletes and spectators alike.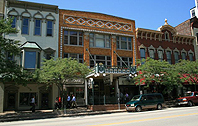 This is a town that's talented ... talented artists, musicians and writers who entertain the masses and intimate gatherings. Art galleries dot the community, and outdoor municipal band concerts can be heard from miles away on a still night. A professional, world-class symphony electrifies audiences as do numerous organizations that raise their voices in harmony. Visiting performers find receptive audiences in various venues, including the state-of-the-art and newly expanded Peoria Civic Center, which draws bigger crowds and bigger names every year in the theater, arena and meeting facilities.
This is a town that's compassionate and generous ... compassionate with countless volunteer groups and generous with dollars for charitable organizations that serve the physical, emotional, financial and social needs of our citizens. The Peoria area is consistently recognized for its generosity and the difference it makes in lives at all socioeconomic levels.
Yes, Peoria offers all this and much more within diverse neighborhoods ... from the quiet cul-de-sac and off-the-beaten-trail streets to the majestic homes of yesteryear along celebrated and historic avenues to the newest subdivisions that lie beyond the immediate bustle of the city, a location to meet every budget and make that dream home a reality.
Peoria is more than just a city, a "jewel in the cornfield." It's a place to call your own.