"Because I care about your future."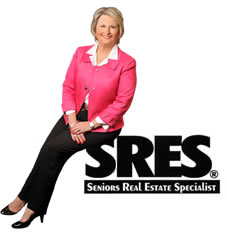 Since America is maturing and over 80% of its contemporary seniors own real estate and/or are buying new properties, Marilyn Kohn has taken the time to study and learn what is important to this growing section of our population. By taking the course work necessary to become a Seniors Real Estate Specialist or SRES®, Marilyn has acquired specialized training and knowledge to give her clients the service they deserve. Combine this training with over 25 years experience and over 5,000 homes sold and closed and you have a winning combination for your real estate needs.
Marilyn has an in depth understanding of reverse mortgages and exchanges.
Marilyn's team of specialists will guide and offer you options so you can make the right decision about selling the family home, renting, investing in rental property or exchanging for other real estate.
Marilyn can provide you with access to a Seniors web site which offers free valuable information in a multitude of areas.
Client Testimonials:
"We had been in our home for 35 years. The thought of moving was pretty scary. We chose Marilyn because of her "soft sell" approach to marketing and her track record and have been grateful that we made that decision. Marilyn and her team, Lois, Brenda and Jennifer were wonderful to work with and they answered all our many, many questions patiently! It was a great experience!"

Robert and Betty

Moving from our family home was a difficult thing to do. But we are both in our late 80's and it was time to go to a retirement community closer to our children. We and our children were concerned about the whole process with us here and them half way across the county. Marilyn was great at working with both of us, keeping our children as well as us informed every step of the way.

Gerald and Eileen

We had been in our home for 45 years and it needed a lot of updating to get the best price we could. Marilyn put us in touch with carpet and paint people who did all the work for us. By following Marilyn's advice we were able to get an additional $25,000 for our home. That money will come in very handy in the years to come.

Norman and Rachel

When we wanted to find a new home on one level and sell our two story home it was great to use Marilyn to do it all. I was worried that she wouldn't have enough time for us since she sells so many homes. Not only did she have time, but my wife and I were shocked when we received calls from her in the evenings and on weekends. It was very obvious to us that she is very attentive to each of her customers and it's not just a 9-5 job.

Bill and Irma

When we needed to sell my 92 year old Aunts home, we asked around and heard that Marilyn had a great reputation. We were concerned that my Aunt feel involved in the process even though we had a power of attorney for her. Marilyn and her staff were wonderful! They often answered our questions and then answered them again for Aunt Mary. It was a very professional and yet personal experience. When we are ready to sell, we'll be calling Marilyn.

Brad and Nathalie
©Marilyn Kohn RE/MAX Traders Unlimited All Rights Reserved.
6811 N. Knoxville Ave., Suite C Peoria, IL 61614